One of The Largest Biodiesel Transaction in the US: Ocean Park Advises Imperium Renewables on Sale to Renewable Energy Group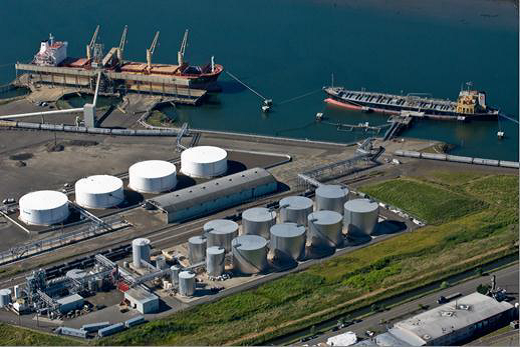 August 19, 2015 – In one of the largest announced transactions in the US biodiesel industry, Imperium Renewables, Inc. ("Imperium") announced today the closing of its sale of substantially all of its assets to Renewable Energy Group, Inc. (NASDAQ: REGI), the leading North American producer and marketer of biomass-based diesel. The assets include a 100 million gallon nameplate capacity biodiesel refinery and deepwater port terminal at the Port of Grays Harbor, Washington. Ocean Park Advisors ("OPA") acted as exclusive financial advisor to Imperium on the sale transaction.
REG paid Imperium $15.0 million in cash and issued 1.675 million shares of REG common stock in exchange for substantially all of Imperium's assets, including the 100-million gallon nameplate biodiesel refinery and terminal at the Port of Grays Harbor, WA. For two years post-closing, Imperium may receive up to $0.05/gallon for biodiesel produced and sold at Grays Harbor. REG assumed $5.2 million of Imperium's debt from Umpqua Bank, which has agreed to provide the newly-named REG Grays Harbor, LLC with an additional loan capacity of up to $5.0 million to fund capital expenditures and improvements at the facility. In addition, Imperium retained its net working capital value of approximately $25 million.
"We are extremely pleased with the successful closing and the delivery of value to the shareholders. We have enjoyed working with the OPA team on all facets of this transaction," said Mark Fleischauer, Imperium Board member and principal of Vancouver, WA based Evans Renewable Holdings, Imperium's largest shareholder. "Our strategies and needs have evolved in response to market conditions and OPA has been a nimble, steadfast and valuable partner to us."
John Plaza, CEO of Imperium, added "OPA was instrumental in managing the sales process for the management team. Their M&A expertise, understanding of the biodiesel sector and deep relationships culminated in this successful transaction for the shareholders. Their dedication to Imperium as a client helped to get this deal across the finish line."
Bruce Comer, Ocean Park Managing Director, commented, "This sale marks the 19th successful biofuels transaction for Ocean Park Advisors, which further solidifies the firm's position as a leader in renewable fuels and chemicals investment banking. This landmark deal delivers value to Imperium shareholders and will enable REG to grow and expand its biofuels production operations on the West Coast."
About Imperium Renewables
Imperium Renewables is a global leader in next-generation biofuel production. Founded in 2004 and based in Seattle, Washington, the company is driven by a single goal – to fundamentally change the way we fuel transportation by developing and producing clean, renewable and sustainable alternative fuels. Imperium operates one of the nation's largest BQ-9000®-certified biodiesel facilities, Imperium Grays Harbor in Hoquiam, WA. For more information, please visit www.imperiumrenewables.com.
About Renewable Energy Group
Renewable Energy Group, Inc. is a leading North American advanced biofuels producer and developer of renewable chemicals. REG utilizes a nationwide production, distribution and logistics system as part of an integrated value chain model to focus on converting natural fats, oils and greases into advanced biofuels and converting diverse feedstocks into renewable chemicals. With 11 active biorefineries across the country, research and development capabilities and a diverse and growing intellectual property portfolio, REG is committed to being a long-term leader in bio-based fuels and chemicals.
For more than a decade, REG has been a reliable supplier of advanced biofuels which meet or exceed ASTM quality specifications. REG sells REG-9000™ biomass-based diesel to distributors so consumers can have cleaner burning fuels that help diversify the energy complex and increase energy security. REG-9000™ biomass-based diesel is distributed in most states in the US. REG also markets ultra-low sulfur diesel and heating oil in the northeastern and midwestern US. For more information on REG visit our website at www.regi.com.
About Ocean Park Advisors
Ocean Park Advisors is a corporate finance advisory firm that advises on mergers and acquisitions, financings and restructurings with extensive experience in the biofuels, cleantech, food and agribusiness industries. Ocean Park has completed 19 renewable fuels M&A transactions totaling 500+ MGPY and worth $400M+ since 2006. Ocean Park Advisors operates a branch office of Stonnington Group LLC, a member of FINRA and SIPC. Any securities are offered through Stonnington Group LLC, 21031 Ventura Blvd., Suite 1201, Woodland Hills, CA 91364, (818) 444-0600. OPA's professionals are licensed registered representatives of Stonnington Group. For more information, please visit www.oceanparkadvisors.com.