Biomass Magazine: REG Completes Acquisition of Imperium Biodiesel Plant, Terminal

August, 26, 2015 | By Ron Kotrba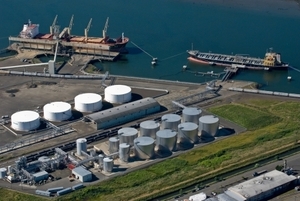 The acquisition of Imperium Renewables Inc.'s assets by Renewable Energy Group Inc. has been completed. The assets include a 100 MMgy biodiesel plant, now called REG Grays Harbor LLC, and deep-water port terminal at the Port of Grays Harbor, Washington. The Grays Harbor location includes 18 million gallons of storage capacity and a terminal that can accommodate feedstock intake and fuel delivery on deep-water Panamax-class vessels. The terminal also has significant rail and truck transport capabilities.
REG paid Imperium $15 million in cash and issued 1.675 million shares of REG common stock in exchange for the assets. For two years post-closing, Imperium may receive up to 5 cents a gallon for biodiesel produced and sold at Grays Harbor. REG assumed $5.2 million of Imperium's debt from Umpqua Bank, which has agreed to provide the REG Grays Harbor facility with an additional loan capacity of up to $5 million to fund capital expenditures and improvements at the facility. Imperium also retained its net working capital value of approximately $25 million.
"We are excited to now offer high-quality REG-9000 biomass-based diesel produced at Grays Harbor to better serve new and existing customers along the West Coast and other low-carbon fuel markets," said REG President and CEO Daniel J. Oh. "The transition at Grays Harbor has been seamless so far thanks to the dedicated team at Imperium who we are now proud to have as members of the REG family."
Most of Imperium's employees have agreed to stay on with REG.
"We are extremely pleased with the successful closing and the delivery of value to the shareholders," said Mark Fleischauer, Imperium board member and principal of Imperium's largest shareholder, Evans Renewable Holdings based in Vancouver, Washington.
Ocean Park Advisors acted as the exclusive financial advisor to Imperium on the sale transaction.
"We have enjoyed working with the OPA team on all facets of this transaction," Fleischauer said. "Our strategies and needs have evolved in response to market conditions and OPA has been a nimble, steadfast and valuable partner to us."
Bruce Comer, Ocean Park managing director, said, "This sale marks the 19th successful biofuels transaction for Ocean Park Advisors, which further solidifies the firm's position as a leader in renewable fuels and chemicals investment banking. This landmark deal delivers value to Imperium shareholders and will enable REG to grow and expand its biofuels production operations on the West Coast."
John Plaza, CEO of Imperium, added, "OPA was instrumental in managing the sales process for the management team. Their M&A expertise, understanding of the biodiesel sector and deep relationships culminated in this successful transaction for the shareholders. Their dedication to Imperium as a client helped to get this deal across the finish line."
A formal grand opening of REG Grays Harbor will be announced at a later date.
To view the original article: Click Here